Updating Holiday Displays Year After Year
'Tis the Season, and your holiday displays are what make your customers jolly, here are 10 ways for your products to stand out
Are you about to open a box of dusty Christmas or fall decorations as a kick-off to the holiday season? Love them or hate them, the holidays can often become a source of stress each year. In addition to our normal workloads, we now have an additional list of tasks and expectations.
For someone managing a store, that list includes decorating for each holiday as it approaches, and it's easy to get in a rut when it comes to setting up holiday displays. Read on to keep things fresh so customers will experience each holiday in your store with new ideas and inspiration.
Choose a popular story associated with each holiday
One way to refresh the displays used for each holiday is to pick a well-known story connected with that holiday and use that as your theme for decorating. For example, rather than the typical red and green Christmas decorations in your store, choose "The Nutcracker," "The Twelve Days of Christmas" or "Scrooge," as the theme to acknowledge the holiday and create a welcoming environment. This would be especially easy in a library or bookstore. Find a well-known story and decorate with associated items.
To complete the theme, it would not require too much effort to choose key shelftalkers and add artwork or written references; with Shelfwiz shelftalkers, this is just a matter of using the templates online to print out new ones and then switching them out. Decorating with a different theme every year does not require purchasing all new decorations – just key elements. We will talk further about finding materials for this and avoiding copyright/trademark infringements in the process.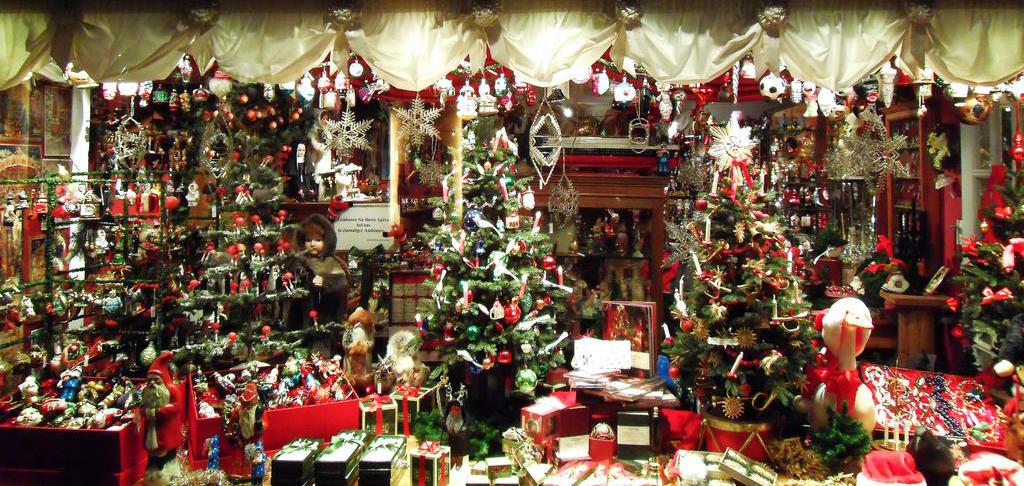 Create your own theme based on a holiday
If picking an established story to associate with a given holiday does not work, create your own theme and stay consistent, building a story around it. Maybe a candy store could pick "Christmas in Candy land," or "Christmas in the North Pole," incorporating displays of its confections. Make sure to avoid copyrighted or trademarked elements as discussed below. Another store might choose a "pumpkin patch" theme with pumpkins as the unifying theme for Thanksgiving.
In a book store, creating your own story might be an opportunity to showcase a not-so-well-known book, setting out a display that envelopes the entire store in that book's world.
For simpler displays, pick one color or a color scheme
One Christmas at my grandmother's house, we arrived to see the house and table decorated in a beautiful lime-green shade. Who would have guessed a non-traditional color would look so festive? Monochromatic themes can be quite effective and original. More traditional colors such as white could be used as well as pairs of colors for less shock value.
If you do go with neutral or more traditional colors, it might be worth redesigning and printing some of your shelftalkers to complete the look. They could be saved and used for future holidays if the colors you choose this year will blend into different color schemes in future years. Or if you end up going with a more of a pop-color, take the time to reprint your Shelfwiz shelftalkers in that color to really create a bold statement.
Displays based on unique stories or themes are more culturally inclusive
Besides creating interest, derivative holiday themes can be more culturally inclusive, since use of common iconography can be a reference to religious beliefs that not all customers share. A winter wonderland theme featuring icicles and snowballs, for example, might feel more welcoming than a Christmas tree display. References to weather, animals, and seasonal variations are usually safe bets.
Steer clear of trademarked or copyrighted items associated with other brands
Older stories are in the public domain and are free to be retold in whatever words you choose. Grimms fairytales are fair game, but Disneys' retelling of them are not, so it might not be the best idea to use characters or strong references that could be an infringement on others' copyrights. The same goes for trademarked phases. These tend to stick in our minds as they have become part of our culture, so a quick online search would be helpful.
Sourcing materials and props
Will switching displays necessitate buying new materials with which to decorate every year? Yes, but only partially. With a little creativity, re-working your store's displays with every holiday does not have to be an expensive task. You could still use some central, neutral items such as artificial trees, garland, or neutral-colored ornaments year after year. Then newer items could be added to freshen up the look and provide substance to the theme. You could also choose to redesign some of the shelftalkers in your store to tie in the theme, and switching them out is easy using Shelfwiz shelftalkers.
Collect from the great outdoors
Some stores have used items found in nature to add texture and interest to displays, sourcing local pine cones, branches, and leaves from open spaces and hiking trails (avoid collecting from protected areas such as National Parks, of course!) Soon you will be looking along trails and public spaces with new eyes, scanning for unusual berries and leaves that dry and preserve well. Some breweries use hops, for example, in their decorations.
Find antiques and unique items
Very specific items that might act as props for the story in a book, for example, could be found at thrift stores, garage sales, or even online on Craigslist or Nextdoor. An old wheelbarrow full of winter boots, for example, might create a festive, outdoorsy look. There are businesses that rent items out for weddings and special events that may be willing to rent out the perfect centerpiece for your display, especially if it is during a time of year that their businesses are slower.
Utilize social media
Putting out a request to the community for items you intend to use in a new holiday display might create renewed interest and curiosity in your store and this approach could become part of your marketing strategy.
Key Points
Keep your store displays fresh and more culturally inclusive every holiday by choosing themes that stem from them.
Pick a well-known holiday story and use that as a theme.
Create a concept and build a story around that.
Pick one or two colors as a theme
Look for second-hand items and materials from nature to support your theme