Read your customers' minds with signage
Use signage to head off problems and answer questions that customers didn't even know they had
Have you ever read something with a question in the back of your mind when you suddenly saw that the author answered it? Were you impressed that he or she knew what you were thinking? Did the author's credibility increase in your mind? You can do the same thing with the shelftalkers in your store by creating signs that answer questions, manage expectations, and head off problems.
The first step is to review who your target audience is and what their needs are. That could be a series of posts in and of itself, but you probably already have a solid idea. It can't hurt to review who your target audience is, keeping these questions in mind: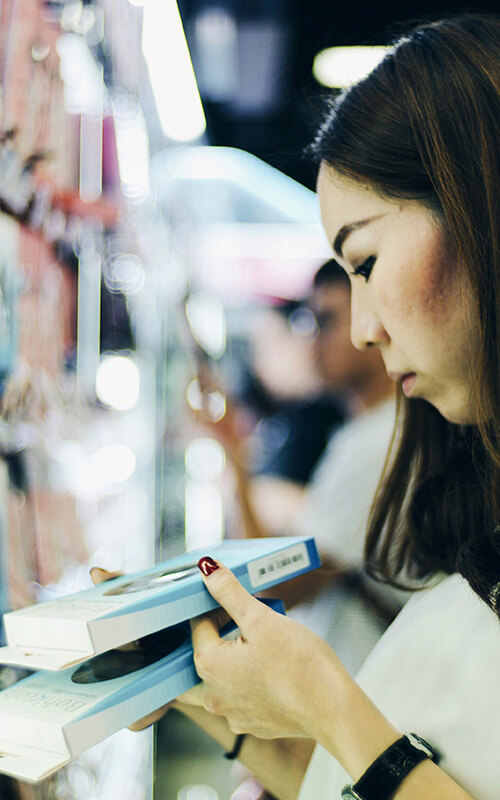 What is your audience's age?
What things do they value?
What problems do they have?
How are they benefiting from your products?
If you know how they are using your products and have a background of what their problems are, you will start to get an idea of how the products will work, or won't work, to solve those problems. Here are some ideas to ask to determine what issues customers might be having with products or the doubts they might have when considering purchasing them.
Does a product only work for specific applications? A person reading "The Art of War," for example, might struggle to find immediately applicable tactics for defeating opponents without an accompanying commentary.
Does an item need to be used differently than others on the market? Paints that allow magnets to stick to the walls on which they are painted allow people to use walls as chalkboards. But these paints must be applied at least 4 coats thick, allowed to dry in between, and covered with not more than 2 layers of latex paint in order to be effectively magnetic. Without reading the instructions, customers would conclude that the paints do not work.
Does a product solve specific aspects of a common problem, but not others? For example, some of the "natural" deodorants that are free of Aluminum function as deodorants but not antiperspirants, whereas the aluminum-based products provide both features. Someone using the aluminum-free type may apply the product and be disappointed with the lack of an antiperspirant effect.
Identifying questions
How will you have time to find out about all these particular use cases for the products in your store? In a bookstore, you wouldn't even begin to have time to read all of the books, let alone their reviews!
Fortunately, there are some shortcuts. Try having a brainstorming session with your employees. Ask them for some of the comments they have been hearing and what they think of some of the products. Create lists and encourage open communication. Everyone has likes and dislikes; just make sure to ask them for the reasons.
You can also survey your regular customers. Use opportunities to strike up conversations about how things are working for them. This will give you valuable information, let your customers feel heard, and build community. This Entrepreneur article even talks about hosting a wine-tasting focus group with some of your most loyal customers to gather intelligence.
To fill in the gaps, research products that you sell by looking for online reviews. Consumer Reports is a good resource, and you can access many helpful articles even without a membership. The issues brought up by customers will let you know what the potential problems can be, so you can anticipate and answer them proactively.
Here is a great podcast on how to read minds by understanding the needs of your audience and improving your listening skills. Spoiler alert: 13:32 "Before people are open to hearing a solution, the person providing the solution needs to demonstrate their understanding of the problem." You can show that you understand peoples' problems by printing their questions or concerns on shelftalkers and then answering them.
Answering questions
Once you have a collection of potential problems or features for each item, you can address them on your shelftalkers. If you already use Shelfwiz shelftalkers, you'll be happy to find that you can reprint them using online templates and switch them out easily in your store. You can even go as far as to write out a question on the label, such as, "Wondering how many coats of this paint are needed to get a refrigerator magnet to stick?" and then answering it, "Customers said at least 4 thin coats, for best results!"
Answering product questions is easy if you use plain language. Knowing what issues to address and doing the research at the outset is the tedious part. Creating the new labels is another task that you can recruit help for; get employees' input in wording the labels. The online templates offered by Shelfwiz make the process easy, and you can see how the text will look on screen before printing them out. Check out our previous blog post, Creating New Signs Easily Using our Templates.
Don't forget that these shelftalkers can also be flipped up to reveal more information on the back! You could try reserving the backs of your Shelfwiz shelftalkers for questions and answers, or put them on the front where customers will notice more quickly.
Key Points
Find out what your customers' problems are by interviewing them, your employees, and doing online product research
Make your customers feel heard by acknowledging their struggles and then speak to them on shelftalkers